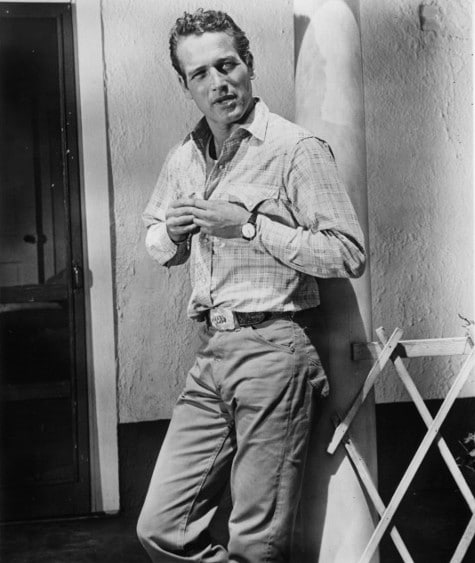 Why talk about something so basic?
Is there really a need to teach men something most of us have been doing since we were 5?
Well, yes actually.
Just look around.
How many men do you see sporting a billowy, unkempt-looking shirt?
Or what about that guy giving a presentation who unconsciously re-tucked his shirt three times during a 5-minute talk?
Most men probably have no system for tucking in their shirts.
Just because you do something, doesn't mean you are doing it correctly.
The goal of this article is to expose you to a few tactics that might eliminate the nuisance of an un-tucked or wrongly tucked shirt.
So let's get started!
What to Tuck & What Not to Tuck
When should you tuck in your shirt? It's a question that's often debated. Here are a few guidelines:
Shirts that are made with a flat bottom hem are meant to be worn untucked. But if the shirt has visible "tails" — that is to say, the hem varies in length, rather than being even all the way around — it should always be tucked in.
Wearing a shirt with tails untucked is not a forbidden look. But it is a juvenile one. With nothing else on the upper body, it makes you look like a teen rebel at a grown-up wedding. Under a jacket or with a suit, being untucked makes you look like you're trying too hard to be stylishly rumpled.
There are men who will insist on the artfully un-tucked shirt. More power to them. But for my money, tucking in a shirt with tails will always give you a sharper and more mature look.
If your shirt doesn't have visible tails, there's more leeway on whether you should leave it tucked or untucked:
Undershirts

 

— These can always be tucked, and absolutely should be if there's any chance of them poking out from beneath your other layers. For best results, tuck undershirts into underwear (more on this below).
Polo shirts

 

— They have an even hem and can be worn untucked, but are often tucked in for a little dressier look, especially by golfers. Rugby shirts, their long-sleeved cousins, are almost never tucked in, however.
Turtleneck/roll collars

 

— When worn under a sports jacket or blazer, these are often tucked so that the belt buckle is visible. On their own, it's better to leave them untucked.
Hawaiian shirts

 

— These and any other loud-print shirts don't get tucked no matter what their hem looks like. Seriously, just don't. Nothing looks dorkier than a tucked-in vacation shirt. This goes for

 

Guayaberas

 

as well.
T-shirts

 

— Opinions are going to vary widely here. Some subcultures love the tucked T-shirt with the visible belt buckle; others will think you look like a total nerd. It depends a lot on the shirt, the belt, and the trousers, as well as your overall style.

 

In general,

 

don't tuck the T-shirt unless it's a deliberate style statement.
https://www.artofmanliness.com/articles/how-tuck-in-shirt/